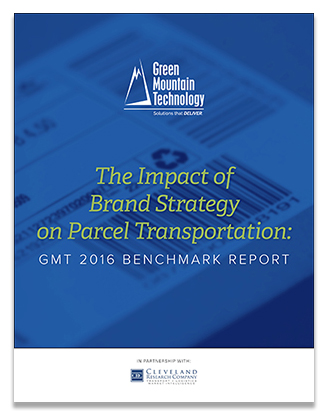 Our comprehensive Benchmark Report highlights a vast amount of relevant and valuable data for shippers. Green Mountain Technology commissioned this research report in conjunction with Cleveland Research to provide shippers with data around brand strategy as it relates to their parcel planning.
This Benchmark report highlights key initiatives, common challenges, and network planning for some of the largest brands in the U.S. It provides a unique glimpse into the evolving parcel market. 
Key conclusions from the survey:
eCommerce currently accounts for 13% of sales, nearly double the 7% of sales several years ago. As eCommerce sales increase, parcel transportation was reported to be the fastest growing transport mode in 2015.
Key challenges include customer price sensitivity and inventory volatility (out-of-stocks).
Current key strategic focuses are fast-order fulfillment, shipping profitability and omni-channel development.

In terms of parcel transportation strategy, over the next two years, use of Deferred Delivery (4—7 days) is expected to decline while Same-Day Delivery is expected to increase. 85% of respondents expect parcel rates to rise equal to or higher than general transport costs in 2016 vs 2015.
In the future, to respond to customer expectations of faster delivery time, nearly two-thirds of respondents would consider Same-Day delivery.